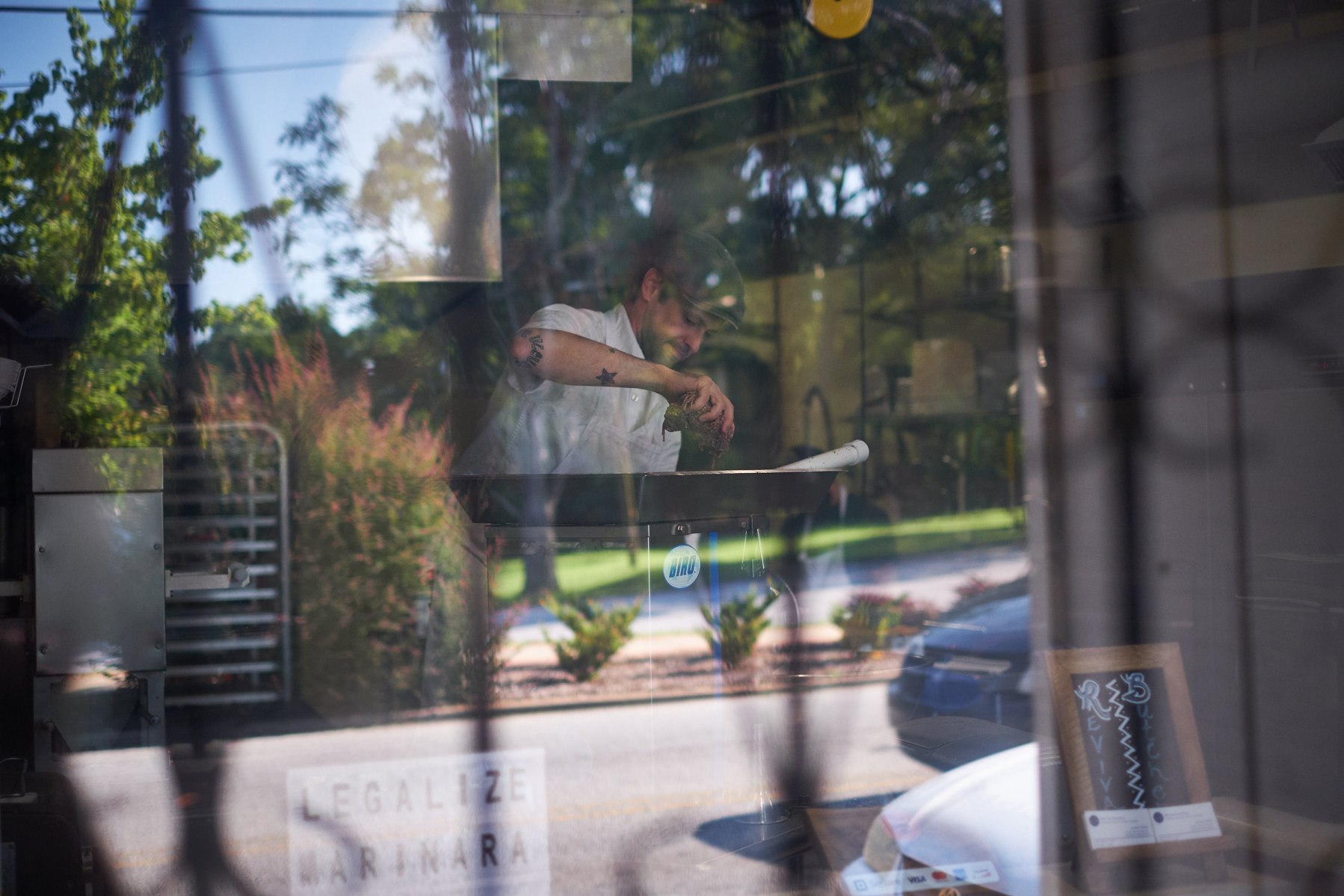 In a tiny shared commercial kitchen on Pendleton Street in the old West Village of Greenville, South Carolina there's an atypical revival happening. There is no preacher. You won't find a tent filled with people, but you can find salivation.
After over 15 years in the business, Jeremy Webb has finally decided to hang out his shingle. A carnivore's wonderland, Revival Butchery is the aptly named new business where old world recipes have been passed down using the oral tradition, each generation adding their own little unique twist, possibly.
His prized kielbasa recipe was handed down to him from an old butcher he worked under who was given the recipe by an old butcher he worked under. That old butcher's grandfather gave him the recipe that can be traced back to his ancestors in Germany. And that's just the story on one of over 30+ sausage recipes that are available in Revival's rotating meat case. Jeremy has been fortunate to have lived, worked and traveled around the globe and he's making recipes based off these experiences and you'll only find some of his creations right here in the shop. Editor's Note :: I'm a really fat guy and have prepared a number of these dishes now and the flavors are truly remarkable. Another note, always trust a fat guy's recommendations on meat sourcing. While I haven't had it yet, next up for me is the Thai Fried Garlic Sausage, his most popular item.
The Webbs (yes, Jeremy's brother, wife and children even pitch in from time to time) want folks to come into the shop with an open mind, hungry belly, and some charcoals warming in the chimney back at the house. His rotating features range from locally sourced meats and cheeses, to mouth-watering deckle steaks, to his incredible artichoke heart and bleu cheese pork pinwheels (a pork loin with sausage and herbs and spices rolled up into a beautiful and delicious pinwheel.) The items are often grill-ready and have a look and taste to make you the culinary hero of the house.
While you're eating good, you're also doing good as the business has a mission outside of profits. Revival Butchery works in a think globally, act locally mindset. They sponsor a child, taking care of medical, educational, nutritional, and shelter needs through the Nazarene Compassion Ministries. They hope to add another child every year. They also frequently donate meat to a local men's homeless shelter in neighboring Spartanburg.
If you're feeling adventurous, just go into the shop and let Jeremy make recommendations based off what's available. And if you want to play it safer, place an order ahead of time by emailing order@revivalbutchery.com.
They are located at 1286 Pendleton St in Greenville, SC in the West Village and the shop is open ::

Tue: 10 AM - 2 PM
Wed: 10 AM - 2 PM
Thur: 10 AM - 6 PM
Fri: 10 AM - 6 PM
Sat: 10 AM - 2 PM