This past year I was able to move into a digital medium format system, a long time dream of mine. My camera is an older system but the files are still beautiful and the glass is breathtaking. The Hasselblad is not the best piece of photographic gear I've purchased recently. Nope. Not even close.
This is it. And it's made by Rubbermaid.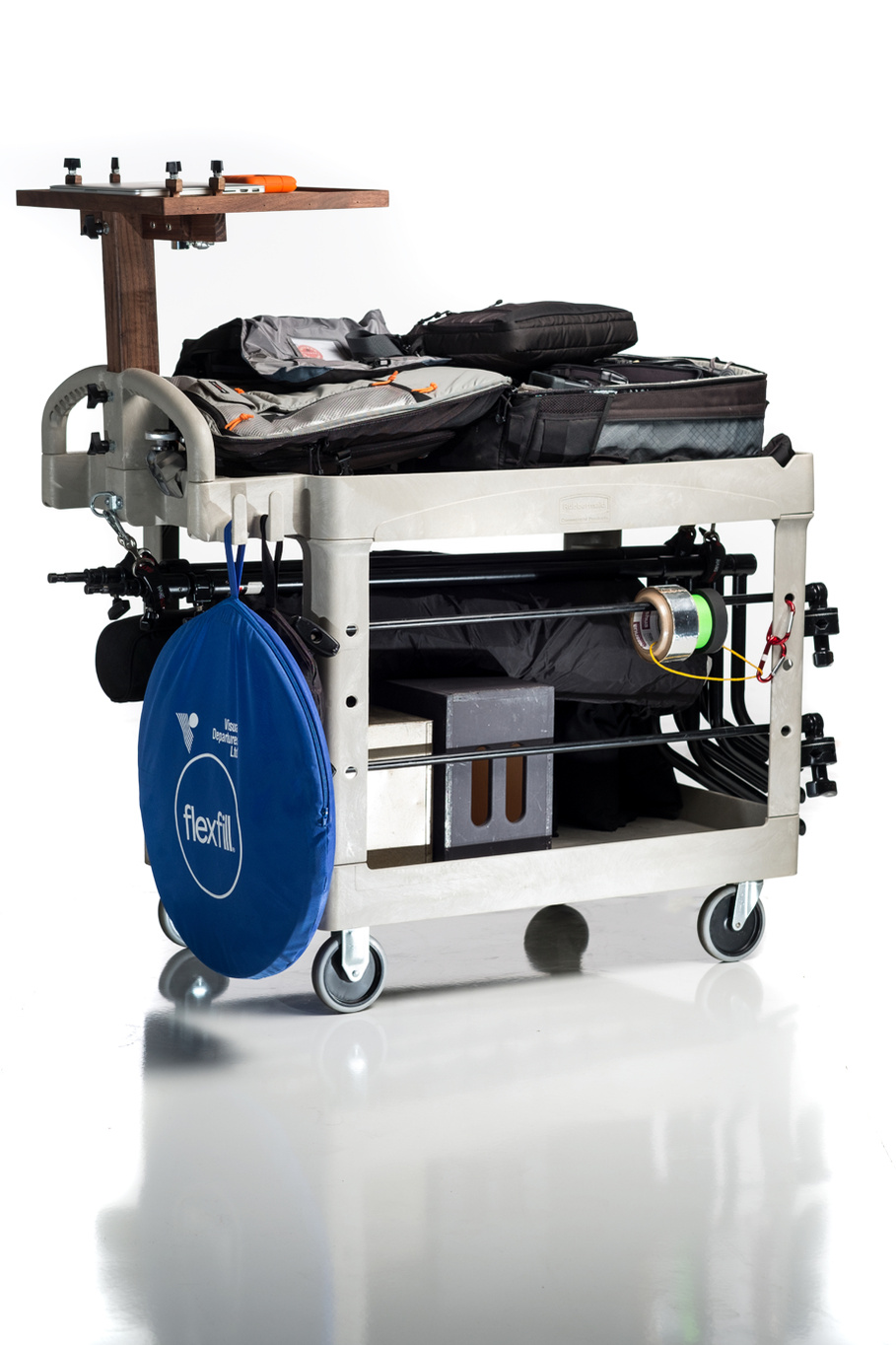 So, now that you might be completely bummed by the banality that is a Rubbermaid cart, let me do some splainin'!
I used to assist 3 photographers in a giant commercial studio years ago and we had anything we wanted. Three giant shooting rooms, three Hasselblad / Phase kits, giant Cambo studio stands, a loaded van, dare I say 15 Speedotron packs? 40 heads? Chimera boxes of every size and flavor. A fully equipped tool and work room to build whatever we wanted and a corporate credit card for anything we were missing. The list goes on and on. You get the point. Also, we had rolling desks and some carts for location stuff. My young(er) mind was always taking notes for the future.
Throughout the years I've assisted other freelance photographers and in my own business I've seen firsthand that we can amass a ton of tools and most jobs don't afford me the pleasure of working with an assistant.
In 2015 I found myself parked illegally downtown outside of a large building with more gear than I could carry in 3 trips by myself. Once I got everything inside, I loaded them all at once in an elevator and took my trip to the tenth floor. When the door opened to my clients lobby, gear went everywhere and the folks waiting for the elevator down just sort of snickered. "I meant to do that" in my best PeeWee Herman is all I could muster. Once I got moved to the location where the shoot was (on another floor,) I had to go back down and grab a few more things and go move my car that I was praying wasn't already moved for me. I texted my wife "I'm buying a cart today."
I rode around to different places and checked out the offerings; too clunky, too expensive, more useful for carrying a fridge up a flight of stairs. I also did web searches for photographers blogging about the carts they were using. The problem with those sorts of things for me is that I'll picture myself being them and make their needs my own, which is not the case. I'm not flying to Asia to work. I'm not working with multiple assistants. It's usually just me and my gear. Rather than pulling the trigger on the infamous Rock 'n Roller, I decided to follow my buddy Ian Curcio's lead (who has sense switched to the Rock 'n Roller) and get myself a Rubbermaid, except larger. I also wanted to get a cart that I could tether from and be able to use on location or in the studio. His cart needs to fit his wagon. I have a Honda Element and I could afford to go larger than he was able to. I bought this cart brand new from a guy off of Craigslist for like $70 I think. This can be purchased at Home Depot for just under 200 bones.
Ian's cart has to be unloaded and loaded each time it's in and out of the car. Mine doesn't. This was a huge plus for me. We're talking five minutes of cut time here but I just hate having to figure it out. I like to know exactly where everything is. After a shoot I like to be able to throw it in the truck and hit the road. When I get back home or to the studio, it's still organized on the cart when I unload it. I don't won't to touch work twice if I can help it. Now, I do still need a little ramp for this rig to be a perfect system but for now it's working nicely.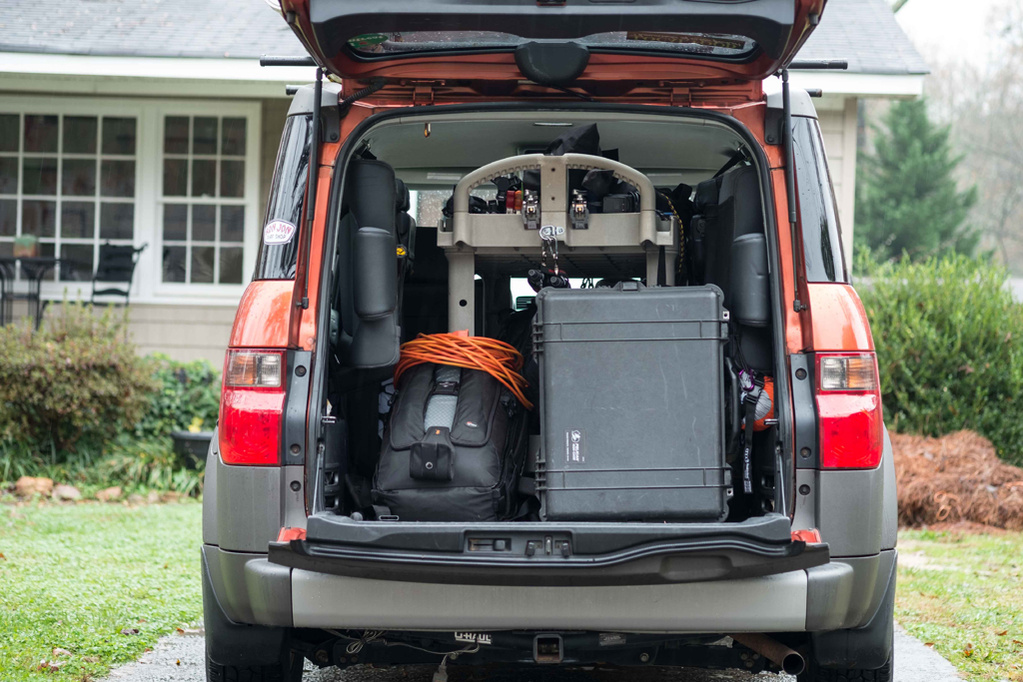 I made a couple little modifications to this cart to make it do what I wanted. I added a D-Ring to each end of the cart and I purchased 4 Husky straps with carabiners to hold my 2 C-Stands in place. I leave these velcro straps in place at all times on my c-stands now. They are also useful for hanging things from the c-stand because you've instantly got two caribiners on your c-stand. One at the top and one at the bottom. I lucked out because my cart has 3 predrilled holes on each corner. It is the perfect size hole and distance for my 40" Grip Arm Extensions and I can lock it in with the grip heads on the outside. #winning
There is a tray under the push handle (a bonus of the bigger cart is the higher push handle, Ian's can be a backbreaker if you're taller than average.) In that tray, I keep all sizes of A clamps and Super Clamps, little odds and ends like gum, mints, brass spigots, clothespins, pens, notepads, etc. On both shelves of the cart, I put about three sheets of foam core as my base, two White and one black. I took a little paracord and a carabiner and hang all my gaff tapes from a loop and then through the grip arm extension. I've got two full size apple boxes I like to always have with me plus 2 - 25 lb. sandbags and a couple 15's. NOTE :: I unload these sandbags before moving the cart into or out of the car. I use them as wheel chocks to keep the cart from moving while I'm driving. Everything needs to have multiple purposes. I carry my lighting kit in a LowePro backpack and my Fuji rig has it's own little Think Tank CityWalker bag. The Hasselblad system for now is in another little LowePro bag that sits underneath the cart with the Fuji bag. All my modifiers, additional stands, tripod and laptop bag fit on the cart as I'm pushing it in.
I also had a friend of mine craft a detachable desk for the top. For the past couple years, I've really tried to be intentional in my purchases. I try to previsualize my career and how my purchases can fit the future of my business. When I bought this, I didn't own a camera that would tether but I knew I was headed in that direction. I had him make it large enough to accomodate a larger laptop should I move to a 15" down the road. When my friend Jonathan Dearman (check out his amazing furniture and call him when you need something awesome made) told me to drive to NC to meet him and he'd bang out something quick for me I had no idea how he'd knock it out of the park so quickly. I pulled out of my driveway on the hone with him telling him the dimensions. Three hours later I pulled up in his driveway and he was 90% done with the thing. He did a quick test of all the measurements and Voila! He designed it so it can quickly be removed from the cart and removed from it's own pedastal. I'd told him I wanted it to be able to be mounted to a c-stand if I just needed the tethering table in the field so we balanced it with that in mind. There is an Impact Wall Plate with 5/8" Locking Receiver bracket screwed to the bottom for this purpose. He nailed the design and made it gorgeous in the process. I've also included a snap of the cart at a gig recently. This was for a 18' wide white seamless setup to pull large equipment on in a warehouse, also pictured. So, more crap than I typically carry was present.